Bevelling machine CHP-60G INV
High-precision machine for heavy-duty production
State-of-the-art portable milling &beveling machine with utmost capacities.
You are here
CEVISA
CEVISA
CHP-60G INV
CEVISA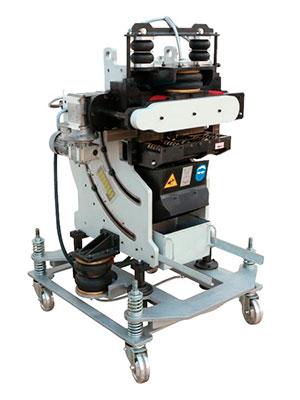 Cevisa innovates further and creates new class of self-feed beveling machine with the launch of the CHP-60G INV heavy duty beveling machine. Today it is the most significant advance in mechanized high capacity bevellers, specially developed for large thicknesses and hard steel, merging 2 technologies in one: world unique portable milling and beveling machine with up to 100 mm thick plates. Suitable for duplex, super duplex, hardox, armox…
The CHP-60G INV is designed to handle extremely demanding welding tasks by giving user shigher bevelling precision, speed performance and quality, fulfilling needs thanks to its angles, width and cut accuracy adjustments for lower chamfers. Together with our CHP-60G they are the perfect team, to save time making X-chamfers without having to turn huge sheets.
Benefits of large thicknesses milling cutting bevelling machine CHP-60G INV
Universal: Designed to bevel any hard material and thicknesses up-to 100 mm
High precision beveller: electronic display screens to adjust bevel width and feed& speed rates
Increaseding productivity: perfect surface finishing, no steel alteration & no need to grind after bevelling process
High ROI: Beveling with the CHP-60G while cutting plates, low cost rate bevel/min., added value for high precision bevel.
Extremely stable machining process: The combination of feeding rollers and 4 bars fixing system held pressure in plates leads to zero vibration & a perfect finish.
Reliability: high performance speed for any kind of material and bevel width (mild steel, hardox, hastelloy, duplex, super, duplex…).
For lower bevels.
Data sheet
Bevelling machine CHP-60G INV
Technical details
Performances
60 mm bevel length
Capability in one run: 28 mm bevel lenght
Bevel finish: machined (milling head)
Adjustable bevel speed depending on the material
Optimum bevelling speed: 500 mm / min
Continual plate fixing pressure system: 4 Bar
3 feeding rollers always in contact with the plate, 1 roller positioned in the cut-off point to insure: - no vibration, no noise, -smooth and unchanging finish
Portable milling machine
Mobile and stable
Adjustable working height with pneumatic lifting system
Electronic bevel adjustment display: high precision
Built-in adjustable bevel angles from 15º to 70º
* Nominal thickness: from 10 mm to 100 mm.
Specifications
Motor: three-phase
Motor power: 5 CV – 3,8 kW
Voltage:
220/380 V. 50 Hz
250/440 V. 60 Hz
For other voltages, please consult us
Electric box with
Thermomagnetic switch trip
Emergency stop button
Net weight: 800kg
Works height: adjustable from 760 to 940 mm
Built-in trolley
Bevel blueprint
Plate bevelling: K, V, X and Y bevels.
Bevel speed: 0,5 m/min.
Electrical connection
Three-phase motor: three phases and earth. no neutral.
Motor power: 5 hp - 3.8 kW.
Voltage: 220/380 V. 50 Hz 250/440 V. 60 Hz
Any other voltage, check availability
32 A plug.
Cable diameter: 2.5 millimetres.
Maximum consumption of the machine: max. 15A.
Air flow rate 200 l/min.
Electrical box:
With undervoltage trip.
Emergency stop button
Magneto-thermal protection
Net weight of the bevelling machine: 800kg
Working height: adjustable from 760 to 940 millimetres.
Integrated carriage.
CEVISA's advantages
Universal: Designed to bevel any hard material duplex, hardox, carbon steel… and thicknesses up-to 100 mm
High precision beveller: electronic display screens to adjust bevel width and feed& speed rates, up to 60 mm machined bevel
Increased productivity: perfect machined finishing, no steel alteration & no need to grind after bevelling process
Accessories
Cevisa's beveling machine is provided with
2 sets of 10 inserts (7 on machine)
1 milling head
1 set of spanners for the machine adjustment
Extras & consumables:
Indexable inserts
Plastic rollers to avoid material marking
Videos