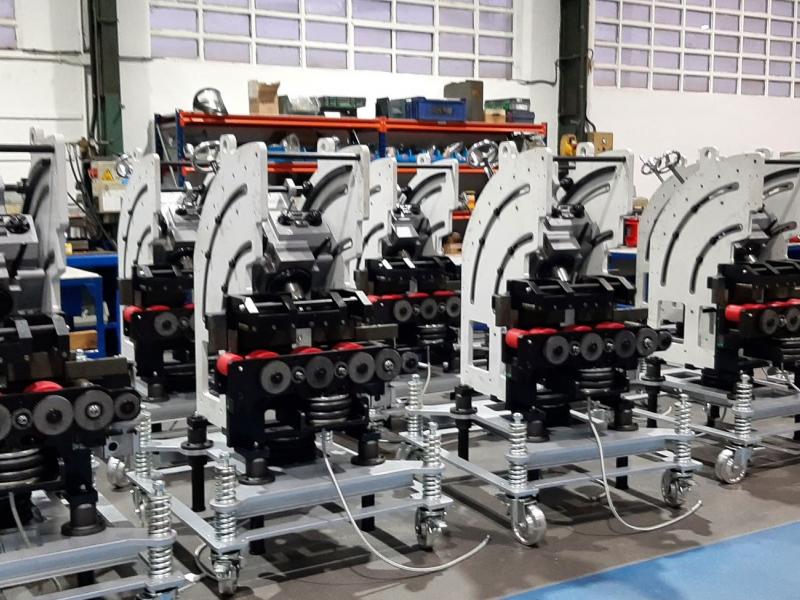 The Basque company Castellanos y Echevarría - Vitoria, S.A. (shortly: CEVISA), with more than five decades of experience, is a global leader in the design, development and manufacture of industrial beveling machines and a pioneer in the manufacture of patented chamfering machines for the metal industry. The bevellers are used for chamfering sheet metal and pipes in all areas of metalworking and welding.
Currently, bevelling machines account for between 75% and 80% of the company's sales and are constantly evolving with the introduction of new machine models. The research and development department is constantly working on introducing new machines or adding to existing ones. "Although we work with a catalog of available machines, we have made several adjustments to meet the specific needs of our customers," explains CEVISA's managing director, Mr. Caballé.
CEVISA has launched ten new models in the last 20 years, is planning another one in the second half of 2021 and is also programming a new product in its portfolio for 2022. "We are sure that the continuity of the company as a leading company in the market can only be guaranteed through investment and research. This is our future ", emphasizes Mr. Caballé.
This year, the company from the Spanish province of Alava will be launching the CHP-30G model, which, according to Caballé, excels in producing bevels with machined surfaces and angles between 15 and 70 degrees and offers a solution for those customers who process the thicknesses below 30 millimeters ". "And next year the company's first reversible metal-cutting machine will see the light," said the general manager, "this will enable the upper and lower bevels to be made with a single machine without having to turn the sheet".
New applications
The main purpose of the CEVISA bevelling machines is to prepare the edges for the subsequent welding process. "Thanks to the latest models, we have discovered applications that are not for the welding preparation, such as the cutting edge in plowshares, the bevel in teeth for excavator shovels, connections in concrete pipes or in diamond sheets for loading ramps," emphasizes the managing director.
In addition, the machines are present in all areas that require edge processing, such as the marine and armaments industry, wind and thermal energy, petrochemicals, civil and offshore structures, transport and civil engineering, warehouses or industrial boiler construction. Each sector has specific requirements in terms of materials, thicknesses, finishes, dimensions of the parts ... "In order to meet the needs of each customer, we have a wide range of models with which we try to respond to the challenges of the market" .
In addition to its 22 employees, CEVISA has a strong sales network in more than 60 countries on five continents. "We have been building trusting relationships based on quality and service for more than 50 years," emphasizes Mr. Caballé. The company guarantees delivery of orders within 24 hours as all machines and spare parts are in stock for immediate delivery.