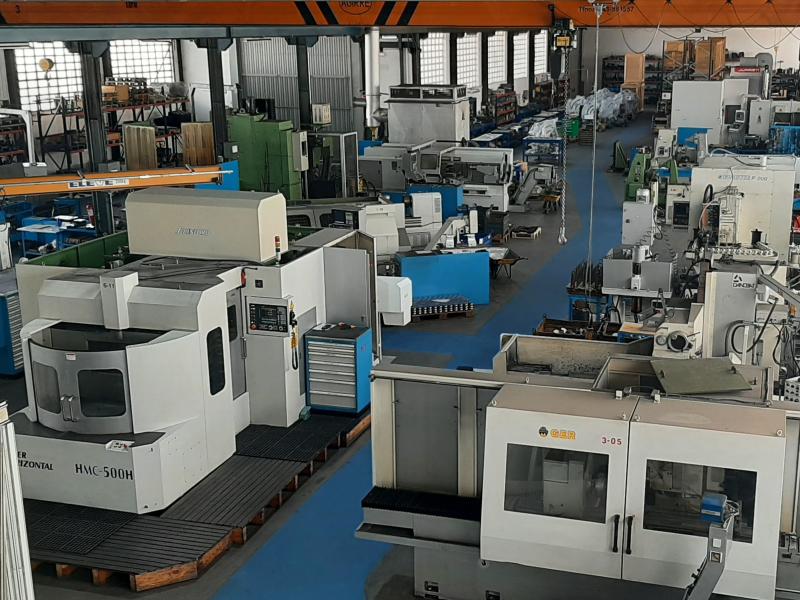 2022 has started really strong for the company
With its origins as a specialist in the machining of custom-made parts of all types of metals and special focus on motor-reducers, the company Castellanos y Echevarría settled in Vitoria in 1969 to set up a production line for Michelin. It took root and they decided to bet on the development of their own product: the Cevisa chamfering machines.
The company was established under the name of Castellanos y Echevarria — Vitoria, S.A. with two lines of business, the machining of short series and high-value unit parts and, since 1972, the year in which the first Cevisa chamfering machine, the CHP-10, was launched on the market, in its own product. They were the world pioneers in this type of automatic machines for the elaboration of chamfers in metals for the preparation of welds. Since then many have tried to copy their machines in different countries, a fact that in Castellanos they say they care little about and that demonstrates the close relationship they maintain with and among their collaborators.
At Cevisa they place great trust in the quality of their products and machines that have been working in their clients' workshops for more than 30 years. The famous "programmed obsolescence" does not go with Cevisa. These precise machines offer the high quality standards necessary to compete with full guarantees in a market where technology is becoming more and more valuable in order to differentiate itself from the competition.
In Castellanos and Echevarría they know that the most important thing is the satisfaction of their clients. "For this reason, our commitment is to offer a service that meets and exceeds customer expectations. Since 1999 Castellanos y Echevarria - Vitorias, S.A. It has the ISO 9001 certificate, which implies that our company complies with the quality standards required by said certification".
In addition, over time it has been seen that Cevisa machines are not only used for welding preparation. It is the clients themselves who propose different applications, such as the preparation of excavator bucket teeth, the edge of plow knives and steel ferrules for concrete pipe connections, among others.
The central headquarters in the Betoño industrial estate in Vitoria (Álava) houses the machining workshop, where all the parts for the chamfering machines are manufactured and the production of small series and high-value unit parts is offered as a subcontract. There José Félix Ábalos shows the wide range of machinery and, specifically, the new acquisitions: a Juaristi boring machine and a Pfauter P200 shaper up to module 5 with palletized feeding.
Passion, innovation, avant-garde and technology
The constant search for excellence has turned Cevisa, with more than 50 years of history, into a pioneering international company in the manufacture of chamfering machines with clients in more than 60 countries. And not only has it overcome the crisis of the years 2008 to 2010, the COVID pandemic, but it continues growing.
And now, 2022 has started really strong. In January they installed a CHP 60G and a CHP 60G INV at a major energy group in Scotland. The challenge was to make chamfers in Super Duplex 1.4410 EN10028-7 with high resistance. Super Duplex UNS S32750 (F53 / 1.4410 / 32750 / Alloy 2507) alloy has excellent resistance to corrosion in a wide variety of environments, pitting and crevice corrosion in high chloride and seawater environments, exceeding 50°C critical temperature. But its machining is not easy. The client has approved the machines with honors and is already thinking about purchasing a third one.
On the other hand, in Switzerland they have recently delivered a CHP-60G machine with a special device for chamfers in J, which allows working with plates up to 100 mm and, with a simple change in the cutter, you can choose whether to make a chamfer in V or a J. For a week they have intensively trained the staff of their Swiss distributor Mehring AG at the Vitoria facilities. SENN AG is delighted with its new acquisition and allows its dealer to show his machine to other potential customers.
For this year 2022, an intense trade fair activity is expected for the sales department: MACH in Birmingham, BIEMH in Bilbao and the Euroblech in Hannover are the fairs in which Cevisa will exhibit its machines directly, in addition to many others in which it will be represented by their distributors.